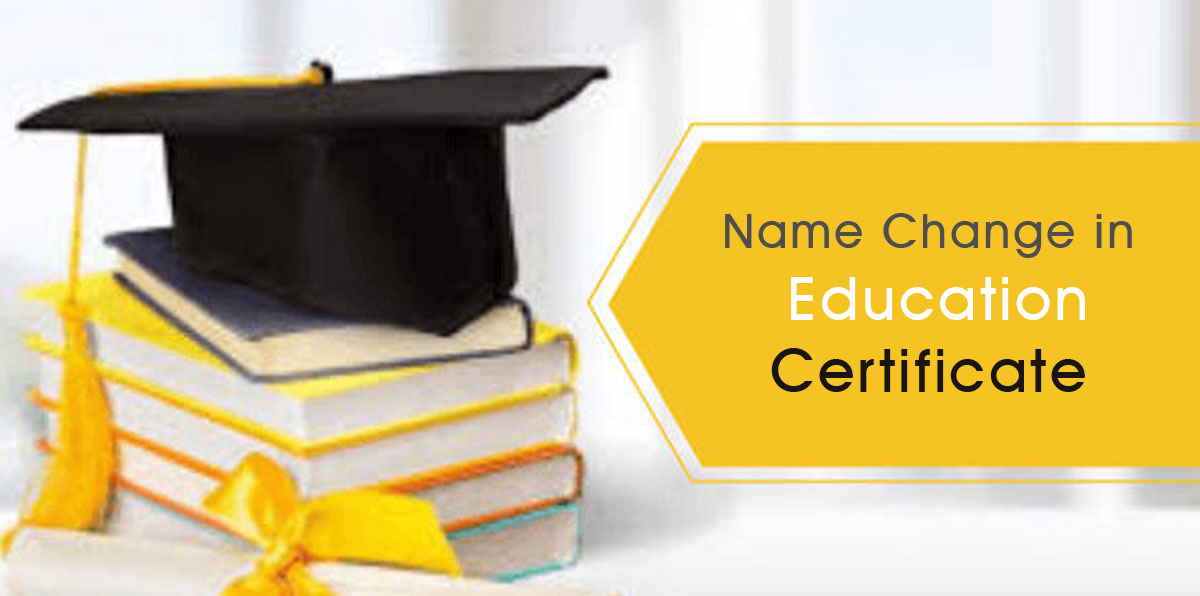 Name Change in Education Certificate
Most of the students find their names are misspelled in their Education Certificate. Many times parents have also found that children's names are misspelled in the Education Certificate. Parents have found mistakes in Middle name, Last Name, even sometimes Surnames are missing or written wrong in the Education Certificates. Most of the parents have also found that their names are also misspelled in Children Education Certificate. Well, we all know the importance of education certification in India. Let it be any reason for name correction in Educational Certificates. Just make sure to get the Name Correction in Education Certificate as soon as possible. You will have to follow some of the given procedures for name change in Educational Certificates.
Hereby, we are here with the solution. For more information, you can call us at 9871075159.
Procedure for Name Changes in Educational Certificates
Step – 1 Affidavit Procedure for Name Changes or Correction in Educational Certificates
You will have to explain the reason why you want to change your name or correct your name in the Affidavit. You will have to mention Old Name and New Name in the Affidavit Procedure.
Step – 2 Publish Advertisement in State Local National Newspaper
Once done with the Affidavit Procedure. The name has to be published in State Local National Newspaper in English as an Advertisement. After announcing in the Local National New Paper. The copies of the newspaper should be with you as proof to submit in the Gazette Procedure. Always remember to take out the printout of the copies.
Just be careful before you give an advertisement in a newspaper. Make sure to double cross-check the name and other details for advertisement.
Step -3 Gazette Notification for Name Changes or Correction in Educational Certificates
Submit the copies to the office for publishing in the Government press for gazette notification. We assist you at every step while name change in Educational Certificate Procedure.
Step – 4 Verification of the Name Correction in Educational Certificates
This is the most important part of the Name Correction in Educational Certificates. Whereas your documents will be verified by the publication.
Letter to the Secretary
You will have to write a letter to the secretary stating that you want to change your name. Request the
secretary to make the changes that you're looking for.
The DEED Changing Name or Name Correction Form.
1 Copy of the State Local National Newspaper Advertisement in English, which published your name.
Copy of the Affidavit
A copy of your present Identity Proof and Address Proof (it can be a PAN Card, Voter ID Card, Passport, etc.)
Why Choose Us for Name Change in Education Certificates in India?
Documents Advisor specializes in Name Change and Name Correction Services. Since 2005, we have been providing hassle-free Name Change Services in India. Our team has experienced more than a decade now with such cases.
Looking for any of Name Change or Name Correction in Education Certificates:
State Boards (Secondary and Senior Secondary Examinations)
Central Board of Secondary Education (CBSE)
Indian Certificate of Secondary Education (ICSE)
Council for the Indian School Certificate Examination (CISCE)
National Institute of Open Schooling (NIOS)
Everyone knows the importance of school certificates as we are going to need them in the future whether. It's for job or college admission but no worries. We can help you with spelling mistakes in School Certificates.
Ans. For name correction on your Education Certificate first, obtain an Affidavit then Seek the help of a local notary to make an affidavit for a name change or publish the change of name in at least two local newspapers both methods are useful but take a lot of time but here is a solution.
Ans. Yes, it can create a problem in the future no matter if the problem is minor or major if it is related to the name. It can create a big issue at the time of document verification and it is advisable to get the mistake corrected at the earliest.